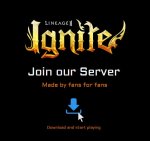 ​
Dear players,
We are very excited to announce that our Project which is starting on August!
Website - http://l2ignite.gr
Forum - https://www.l2ignite.gr/forum/


Information
L2Ignite - Lineage 2 Interlude.


If something is not mentioned here, you guessed it - It is retail.
L2OFF GameServer files
Anti-Bot System - Enabled
Geodata and Pathnodes - Retail
Auto loot for normal monsters - Enabled
Auto loot for Raid Bosses - Disabled
Auto learn skills - Enabled until 40 (Inclusive)
Class Changer - Enabled for 1st & 2nd class only
Offline mode shops - Enabled (See below)
VIP System - Enabled (See below)
NPC Buffer - Enabled (See below)
Rates
Experience (EXP) - x3
Skill Points (SP) - x3
Adena - x3
Drop Items - x3
Spoil - x3
Quest Experience (EXP) - x2
Quest Skill Points (SP) - x2
Quest Adena - x2
VIP System
Get VIP status and enjoy the following benefits:
Experience (EXP) +25%
Skill Points (SP) +25%
Adena +25%
Drop Items +25%
Spoil +25%
Ability to set Offline Shop - You are also able to set auto-announce messages (10 min interval)
Ability to use the NPC Buffer from Lv. 52 and up
NPC Buffer
She will provide you with the most necessary buffs to aid you in your quest to become the best!
Her buffs do not include resistances, dances/songs, summon buffs and 3rd class skills.
We adore support classes and we want to keep them as useful as the rest of the classes, but we also want to give solo players the opportunity to be able to farm effectively.
Her list of buffs progresses according to your character's level and you may also apply buffs to your pet/summon.
These are the tiers for each buff list:
Tier 1: Character Lv. 1 - 19
Tier 2: Character Lv. 20 - 39
Tier 3: Character Lv. 40 - 51
Tier 4: Character Lv. 52 - 60 (For VIP characters)
Tier 5: Character Lv. 61 - 75 (For VIP characters)

Tier 6: Character Lv. 76 - max (For VIP characters)
Noticed anything strange?
Tier 6 has combo buffs. Our server not only is based on PTS Interlude files, but is also built from the ground-up on top of the Gracia Final engine!! This means we are able to provide you with retail C6 experience while also enhancing your gameplay.



Merchant Shop
Contains ONLY cosmetic items like accessories and costumes that you can acquire using Coin of Luck.
It might contain also consumables and quest items like the pipette knife.
It is there as another way for you to show your support for the server and also a way for us to say thanks!
Changes
Aggro / Passive in-game patch included
Droplist / Mob statistics in-game patch included
Infinite zoom out in-game patch included
And so many more that you will find out as you progress!!