Global Moderator
Staff member
Global Moderator
Hello MMOTOP.eu community.
In our site you have the chance to serfing as you want !
So here is a guide how to change theme to our forum
1. You have to scroll down and press the batton that writes "Default Style"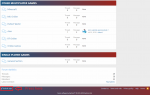 2.Then a window will appear on your screen, you have to press on MMOTOP Gaming Style

3. And here you are! So our forum gives you the chance to change the background !
4. Now you have to click this small dot

5.Now you have to choose the background you want

6. Choose the background you like and press save and you are ready !